Per NCAA rules,
Fresno State
gets 15 spring practice sessions. On Monday, the Bulldogs put practice No. 5 in the books. The 'Dogs resume practice on Wednesday in preparation for their first of three spring scrimmages on Friday.
All four quarterbacks took reps on Monday. As head coach Pat Hill has said all spring, none of the four is expected to emerge as the starter. Besides learning the offense, the quarterbacks must deal with a constant shifting offensive line.

Michael Harris is about to pick up the blitz as Matt Faulkner looks for an open receiver.
"Andrew Jackson has that back injury and has not been able to compete yet," said Hill. "He may need surgery."
Matt Hunt and Leslie Cooper are taking reps at right guard while Jackson sits out contact drills. The left guard spot is open as Charley Robbins recovers from off-season surgery and Richard Pacheco plays center. Richard Helepiko and Max Devlin have been taking most of the reps at left guard. Devan Cunningham has been taking reps at left guard and tackle.

Devan Cunningham blocking Chris Carter.
"The two tackle spots are open," said Hill.
Bryce Harris is sloted at left tackle with Kenny Wiggins at right. Cunningham can play both spots and often takes first team reps at right tackle. Austin Wentworth and Trevor Richter backup at left and right tackle, respectively.
"What's really amazing right now is the execution for a young offensive line is not bad," said Hill. "We just got to mature."
For more practice notes and injury updates, click HERE for access to the Doghouse Forum.

A.J. Jefferson lays a hit on Lonyae Miller.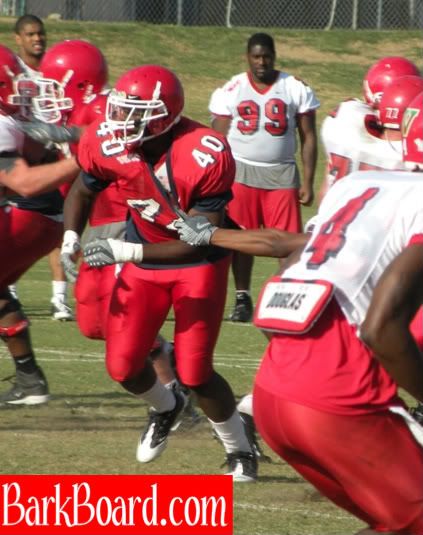 Defender grabs hold of Michael Butler's jersey.

A.J. Ellis makes a cut inside.
---
©Copyright 2009, BarkBoard.com and Scout.com. All rights reserved.