Fresno State
's 2010 football season officially started Thursday at 9.00 a.m. when the newcomers entered the practice field in shells. It was a hot summer day in Fresno with temperatures climbing into the 90's during practice and little to no wind either. It's something the new players will have to adapt to though, as the forecast shows no change in the next week.
Dean against CB J.B. Dock
in 1-on-1's.
Photo by Mario Gomez
After stretches, the team gathered early for a few snaps in 11-on-11. Kelly O'Brien took the first drive with
Tracy Slocum
at running back and completed one of two passes.
Greg Watson
took snaps with the second group and completed both of his pass attempts, the first to
Josh Harper
, followed by a dart to
Victor Dean
that could have went for a touchdown.
Afterwards, the players broke off into positions to work on agility and learned the fundamentals.
It was the first chance to see the highly touted receivers of the 2010 class. Alex Jeffries joined the unit as well, and Coach Keith Williams, aka Coach Dub, praised him on several occasions for his route running. The new defensive backs joined them for one-on-one drills. The receivers had their way early creating a lot of separation, but their youth showed with several drops, as well as many off target passes by the young quarterbacks.
---
August 5 One-on-One's
---
The units then took part in the seven-on-seven drills. Kelly O'Brien completed two of five attempts for 14 yards, and one interception by J.B. Dock. Tyler Stirewalt completed one of three passes for seven yards, and Watson completed one of his two attempts for seven yards. Alex Jeffries had two catches for 24 yards.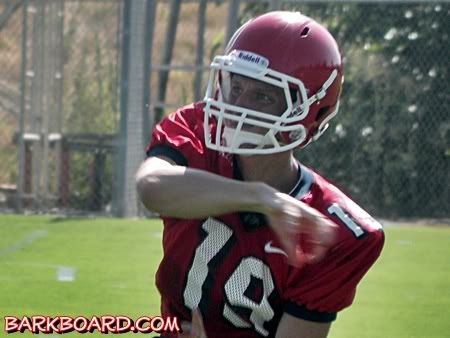 QB Kelley O'Brien
At 10:45 a.m., the veteran 'Dogs joined the young guys and both groups worked on special teams. Andrew Shapiro took the snaps at punter. Devon Wylie, Rashad Evans, Jalen Saunders, Sean Alston, and Derron Smith each took reps returning punts. Once the newcomers were released, the veterans went through the same routines.
In 11-on-11 drills, Ryan Colburn completed both pass attempts to Devon Wylie, and Derek Carr completed his lone pass attempt to Jevon Stallworth. Colburn took the first team snaps, with Carr taking the second team. The first team O-line was unchanged from last year's unit. Taking first team snaps at running back was Robbie Rouse, first team fullback was Austin Raphael, at tight end was Vince Pascoe, and Jamel Hamler and Devon Wylie were first team receivers. The defense was also mostly unchanged outside of the cornerback position; where Jermaine Thomas took first team reps in place former Bulldog A.J. Jefferson.
In the veteran's one-on-one drills, the highlight was a fade pass thrown by Colburn that Devon Wylie completed in the end zone beyond the reach of cornerback Jermaine Thomas. The defensive highlight came when Lorne Bell jumped the route on a pass intended for Matt Lindsey and made the interception.
Day one concluded with seven-on-seven drills.
Colburn finished with two completions on five attempts for 25 yards, and Derek Carr ended with four completions on five attempts for 43 yards. Matt De Los Santos caught two passes for 29 yards, and Jamel Hamler caught two passes for 17 yards.
Practice News & Notes
Defensive tackle Andy Jennings and corner Cris Wilson did not participate in practice due to injury.

Isaiah Burse and Rashad Evans took snaps in the "Tiger" (Wildcat) formation.

Out of the two 5-foot-7 running backs who participated in spring, Jerry Kelly has made the roster as a walk-on.

Dylan Cruz taking snaps as second team fullback.

Kelly, Rouse, and Erik Brown practiced with the returners, but did not take reps.

Of the 2010 freshman class, Marcus McDade, Leslie Rogers, and John Ogelsby have not reported to camp. Coach Hill says McDade and Rogers could join the team in the spring.

Receiver Davon Dunn has not been cleared to practice yet, and offensive lineman Cody Wichmann was at practice but not in pads.

About 50 spectators attended to watch the 'Dogs.
You can now follow BarkBoard.com via Twitter.
---
Discuss in BarkBoard.com Forums.
---
If you have not by now, subscribe to BarkBoard.com. Click HERE to get access to the members-only content from BB.C and the nation-wide Scout.com network.
---
©Copyright 2010, BarkBoard.com and Scout.com. All rights reserved.